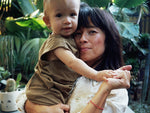 Helen Nishi is truly a jack of all trades. She is a photographer, mother, ceramic artist, surfer, friend and the list goes on. Her creative and kind spirit is magnetic. We first met Helen years ago in Venice and ever since we have watched her move through life with grace whether she is taking photos for various brands, becoming a new mother to Cy, or DJing and playing records in restaurants (pre covid). She knows how to effortlessly fill a room with warmth and beauty. Born and raised in Brazil, Helen grew up with an Italian mother and a Japanese father. It is easy to see the influence of her mixed heritage through the way she communicates, to her own personal style, to her eclectic taste in music. Read along below for a look into Helen's life and listen to the playlist she created for your mellow mornings at home. 
HELEN NISHI MORNING VIEW PLAYLIST
Q: Who or what inspires you? 
A: So many things! Inspiration is all around in all living things, objects, music, nature, positivity and negativity.. I draw inspiration from anything and everything.
Q: We love your eclectic taste is music. Who are a few of your favorite artists? How do you go about discovering new music?
A: Favorite artists - Gabor Szabó, Caetano Veloso, Jorge Ben Jor, Art Blakey, Fela Kuti, João Gilberto, Miles Davis, Yusef Lateef. The internet really makes it so accessible and is a huge resourceful market when it comes down to finding music...new or old, there's a lot out there.
Q: What do you turn to, to make you feel your best? 
A: No doubt being outside makes me feel my best, I would say surfing and having a beer afterwards makes me the happiest.
Q: Movement, meditation or ritual you engage with?
A: I find movement a meditative process but I also like to be still and breath. I like the simple rituals of everyday life, they keep me balanced, spending time with my family, cooking, and house chores. Balancing everything everyday is definitely a challenge, especially in challenging times like this one we are presently experiencing.
Q: What can we always find in your fridge? 
A: Beer, wine, hot sauce, pickles, cheese and broths.
Q: What are you reading?
A: How to talk so kids will listen and listen so kids will talk.
Q: When you think of your son what are the first 3 words that come to mind? 
A: Life, Love, and Laughter.
Q: What do you love most about shooting film?
A: The colors and depth of film.
Q: Favorite camera?
A: Any film camera is special to me, I don't have a favorite, I can tell you I appreciate what each of my cameras can offer.
Q: What is your favorite Morning View? 
A: My son's sleepy face <3